A crisp, long-sleeve white shirt is a style classic and can be a staple of every woman's wardrobe. Though it may evoke work or school for many women, it has lots more potential with different fabrics, silhouettes, cuff, sleeve and collar variations.
History of the White Shirt
One of the earliest revolutionary uses for the white shirt was during the 1920s when the women's workforce expanded. Coco Chanel shocked the fashion world by discarding the corset and donning a loose white shirt. In the 1950s, Audrey Hepburn wore a white collared shirt with rolled sleeves and turned-up collar in Roman Holiday, making it iconic with a timeless femininity.
Later in the 1970s with the advent of feminism, Marlene Dietrich and Katharine Hepburn were seen in mannish shirts and slacks, bringing in an androgynous style. The 1980s featured a variety of ladies white shirts from Vivienne Westwood's pirate collection, to the prim blouse-style shirt worn by Kim Basinger in 9 1/2 Weeks.
Pulp Fiction had Uma Thurman looking very stylish in a white shirt, cigarette pants and ballet pumps. Other more recent wearers of the classic white shirt include Katie Holmes, Jennifer Aniston, Eva Mendes, Cameron Diaz, Kate Hudson and Gwen Stefani.
White Shirt as a Basic Wardrobe Staple
Jeanie Lanz-Bergin at I Spy Fashion adores the white shirt, describing it as: "the wardrobe equivalent of a blank freshly painted wall. Like a clean, bright backdrop to accessorize with what ever takes your fancy." The main reason that a white shirt is so popular with both men and women is that it is so versatile. It can be the perfect casual summer outfit with jeans as well and integral part of more traditional business attire.
As a basic clothing staple the shirt will be ideal for all occasions and can be worn with dresses, casual denim skirts, classic pencil skirts, trousers or jeans. Make them look more relaxed by turning up the collar and trolling up the sleeves. Different styles can be created with accessories and a unique shirt can be made by customizing it with ruffles, beads, ribbons and bows.
Tips on Finding the Perfect White Shirt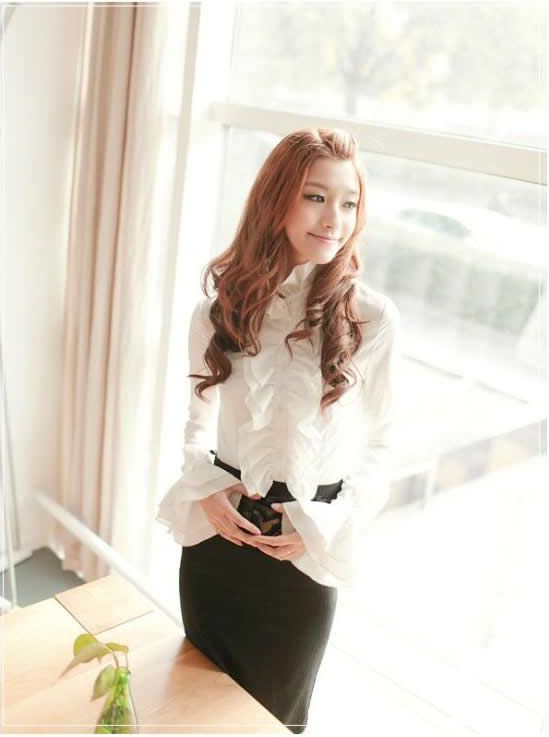 The perfect white shirt will vary according to the wearer's body shape and should fit well, be well made, and have a bright shade that flatters the complexion. Choose a shirt style that flatters your body shape and accentuates the best features while masking the less desirable ones. Decide on whether a masculine, classic or modern shirt style is right for you. Usually refined tailoring and classic details are preferred for a sophisticated wardrobe staple.
The classic white shirt is a style classic for both men and women, and therefore often sported by many celebrities from Gwen Stefani to Katie Holmes. The perfect white shirt is versatile and can be worn in any season with the right accessories.
MorpheusBoutique.com
offer various selection of
white shirts
at unbeatable price. You may build your own unique 2011 white shirt collection this spring.
Sources:
AllBusiness.com. Classic White Shirt Remains Staple (accessed November 1, 2010).
DailyFashionandStyle.com. White Shirt Style Tips (accessed November 1, 2010).
ISpyFashion.com. The White Shirt (accessed November 1, 2010).